A Geek Daddy received the featured product for free from Sony Pictures Home Entertainment for promotional consideration.
Enjoy a spook-tacular movie night watching
HOTEL TRANSYLVANIA 3: SUMMER VACATION
. The newest chapter in the adventures of Drac and his family of monsters has arrived on home video just in time for Halloween. You can watch it now on Blu-ray, Digital HD and DVD!
This humorous animated movie series featuring Count Dracula ( aka Drac ), his daughter Mavis, human son-in-law Jonathan, half-vampire grandson Dennis, and a gaggle of monster friends has been a family favorite of ours. All of these movies are great to watch with kids during the Halloween season because they aren't scary but yet still have a spooky fun vibe to them. Carve a few drac-o-lanterns, cook up some heated pumpkin seeds, and turn on HOTEL TRANSYLVANIA 3 for a terror-ific night of Halloween themed family fun.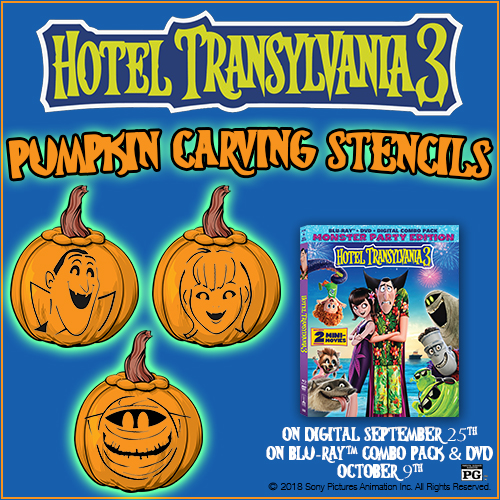 In this movie, we leave the hotel in Transylvania behind for a summer vacation. Drac has been a sour mood lately and no one around him understands it is because he is lonely and looking for a special someone to love. To boast her dad's spirits, Mavis surprises him with a summer vacation on a cruise ship that caters to monsters....a floating Hotel Transylvania! Of course the Drac Pack (Frankenstein, the Invisible Man, Murray the Mummy, and Wayne the Werewolf) joins in on the trip so you know high jinx are sure to come as they travel across the sea.
The monsters are having a great time on their summer vacation indulging in the cruise's monstrous games, gigantic buffets and exotic excursions. Then the unexpected happens! Drac gets zinged! He falls for the ship's mysterious human captain Ericka. Is Drac going to find love or is he just finding trouble? You'll have to watch HOTEL TRANSYLVANIA 3 for yourself to find out!
The all-star voice cast from the previous Hotel Transylvania movies returns for this sequel including Adam Sandler, Selena Gomez, Andy Samberg, Kevin James, David Spade, Steve Buscemi, Keegan Michael Key, Molly Shannon, Fran Drescher and Mel Brooks. This Sony Pictures Animation film is also directed by three-time Emmy-winning director Genndy Tartakovsky. HOTEL TRANSYLVANIA 3 has a run time of 97 minutes and is rated PG for some action and rude humor.
Of course home video editions of movies always come with bonus material included. So what is included with HOTEL TRANSYLVANIA 3? There is more than an hour of engaging bonus segments included with the movie. These include:
Three All New Scary-Oke Sing Alongs: It is karaoke time with some of your favorite characters from the movie to three Hotel Transylvania 3 inspired songs
"Dennis Had a Giant Dog" -- sung by Dennis & Winnie
"Monsters Like to Party Down" -- sung by Jonathan
"Oh These Wolf Pups" -- Sung by Wanda the Werewolf
Plan Your Own Spook-tacular Sleepover: this feature will give you all the details on how to make your own sleepover spook-tacular! From snacks to crafts to games, follow these steps to create a Hotel T sleep-over, the perfect setting to binge watch all 3 Hotel Transylvania movies.
Vampire Make Over: Mavis and Drac Tutorial: Learn how to turn yourself into your favorite Hotel Transylvania 3 characters.
Johnny's Home Movies (Franchise Recap): Jonathan (Mavis' husband) brings viewers up to speed on what has happened in the Hotel Transylvania franchise so far.
"I See Love" Monster Dance Party Dance Along: Get up and get moving to this haunting monster mash.
Drac's Zing-tastic Read Along: It is storytime with your favorite Hotel T characters telling a silly tale about Drac's search for Zing! Read along or sit back and enjoy having the story read to you.
Two Mini Movies (Rated G): These two mini-movies Puppy and Goodnight Mr. Foot will have you howling!
Between the feature film and its bonus content, there is enough stuff contained on the Blu-ray, Digital, and DVD editions of
HOTEL TRANSYLVANIA 3
to keep your family entertained for hours. Pick it up for a howling good time! Have yourself a fun movie night with Drac's pack enjoying this family friendly comedy. For more information about the movie, visit
hotelt3.com