Being self-employed and having a wife whose employer doesn't provide dental coverage means a lot of out-of-pocket expenses for our family. Yet we know the value a good smile plays both professionally and personally in life so it is an investment we prioritize for our kids. With the amount of money I'm spending on braces, there is no way my children aren't sticking to a routine of keeping their teeth clean. Every day it is 2 minutes brushing after breakfast and before going to bed. Like it or not my twins aren't only going to have straight teeth but healthy ones too.
Going to the dentist is important for maintaining healthy teeth, gums and a winning smile, but did you know that oral care can also affect your overall health? It's true! Good oral health can limit your exposure to heart disease, stroke and memory loss. This is why it's so important to start routines like daily brushing and flossing teeth and regularly going to see a dentist at an early age. A healthy mouth equals a healthy you!
Of course that isn't always easy when you don't have dental insurance. I know I've been there myself! In fact, it can be downright frustrating because not only are you paying the whole bill yourself but dentists charge uninsured patients hire prices than what they bill the insurance companies.
That is where
Smile Health Dental Plans
come in. I've actually used this service myself when we didn't have dental insurance for our family so was glad to partner with them in sharing some healthy living tips based upon that previous experience. Smile Health Dental Plans are an affordable alternative to traditional dental insurance. Members pay an annual fee to receive discounts all year long that put your dental bills on par with what insurance companies are paying for the same treatment. Smile Health Dental Plans provide savings of 20% or more on the price of many preventative, restorative and cosmetic dental treatments that uninsured people are paying for on their own.
To help promote awareness of their service as well as the importance of engaging in good oral care, Smile Health Dental Plans have provided
ageekdaddy.com
some goodies to giveaway along with some healthy living tips. Read about how a healthy mouth = a healthy you plus enter to win a "Your Smile Health = Your Body Health" Care Kit below.
YOUR SMILE HEATH = YOUR BODY HEALTH
Read these 8 tips to save your smile and your life from Smile Health Dental Health Plan: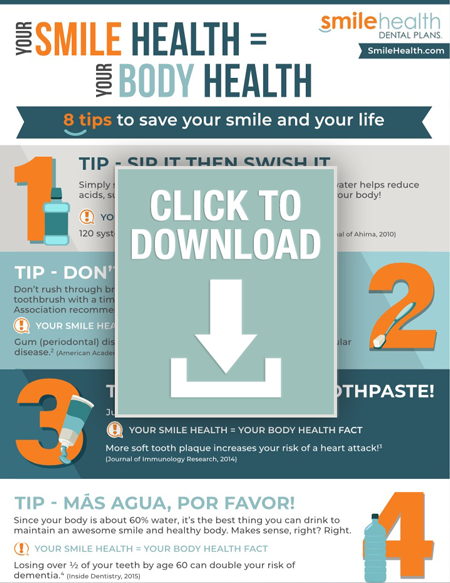 ORAL CARE KIT GIVEAWAY
Enter to win a Smile Health Dental Plans "Your Smile Health = Your Body Health" Care Kit that includes:
1 - Oral B Vitality Electric Toothbrush
1 - Crest Pro-Health Toothpaste Travel Size
1 - Oral B Glide Floss
1 - Crest Pro-Health Multi-Protection Oral Rinse
1 - Smile Health = Body Health pamphlet
To throw your name in the hat for this prize pack, complete the rafflecopter entries below before 11:59 pm ET on June 5, 2019. Must be a legal resident within the continental United States over the age of 18 years old to participate. No purchase necessary. Each household is only eligible to win "Your Smile Health = Your Body Health" Care Kit once via blog reviews and giveaways. Only one entrant per mailing address per giveaway. If you have won the same prize on another blog, you will not be eligible to win it again. Winner is subject to eligibility verification. Smile Health Dental Plans will be responsible for delivery of the prize. Good luck!
a Rafflecopter giveaway
For more information on membership in Smile Health Dental Plan, please visit
smilehealth.com
Looking after your teeth and taking the right steps to improve oral health and hygiene is so important. You need to try to make sure you do the best you can to make the most of this, and one of the best things you can do here is to make sure you come up wo9th some of the best ways of improving your dental health. Yes, dental plans are a great step to take when you have kids and you need to have a system in place to help you look after your dental health and make sure you focus on being able to improve the oral hygiene of the entire family. This is something that you need to try to work on as much as you can, and there are plenty of excellent ways of being able to achieve this.
Try to make sure you focus on being able to make the most of your oral health, and there are certain factors that you need to try to focus on as much as possible that will help with this. Make sure you come up with some amazing ideas that will improve your teeth and your kid's teeth too. You should be considering some of the best
teeth straightening
options that you can use to make the right choices here, and this is something that plays a big role in this process moving forward. Looking after your teeth and having a strong dental plan is one of the best approaches you can take.