Baby Yoda, also known as "The Child", has captured the fascination and adoration of people across the globe since the character's surprise debut on Disney+'s THE MANDALORIAN. My kids love him, my wife thinks he is very cute, and I have to admit having a fondness for the little guy. Wouldn't it be cool to have a Baby Yoda to hang around your own house?
Now you can bring home a screen accurate life size toy of Baby Yoda based upon the prop used in filming THE MANDALORIAN. Hot Toys, known for producing highly detailed collectible toy reproductions of comic book and sci-fi characters, has crafted "
The Child
" scaled in size as if it was a real life character. This is as close as you'll get to having Baby Yoda standing right next to you!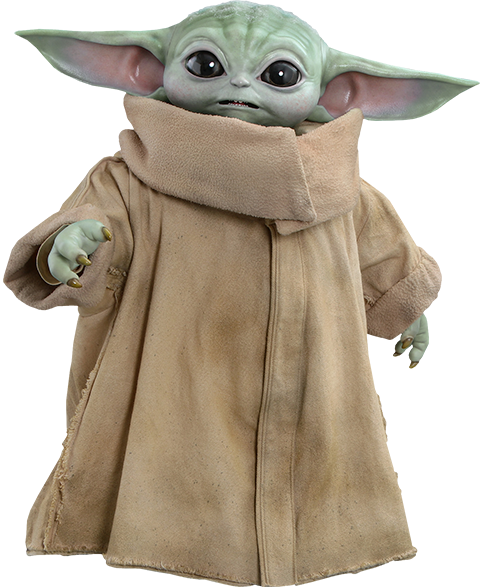 Available from
Sideshow Collectibles
, The Child Life-Size Collectible Figure from Hot Toys is a hyper-realistic and has articulated features for posing and playing with. Meticulously crafted based on the appearance of "The Child" in THE MANDALORIAN it stands approximately 36cm tall. Impressive details of this collectible Baby Yoda figure include 2 pairs of interchangeable ears, movable head and arms, skillfully tailored outfit, a silver knob from the Razor Crest spacecraft that the young alien loves to hold, a Mythosaur emblem necklace, and a variety of interchangeable hands to pose or hold. Recreate your favorite moments from the Star Wars live-action series or imagine your own adventures with
Baby Yoda
.
Want something a bit smaller in size? Hasbro has created a Baby Yoda action figure for its Star Wars Black Series 6-inch scale toy line. This Baby Yoda stands at 1.2-inches high to be at scale with the other toys in the collection as the character is depicted in THE MANDALORIAN. The figure includes multiple points or articulation and accessories that include a soup bowl and the silver nob from the Razor Crest's control panel that Baby Yoda enjoys playing with. This action figure is available from
Best Buy
.
Purchase a Baby Yoda toy through an affiliate link in this post and
ageekdaddy.com
will receive a small commission at no additional expense to you. This dad blogger appreciates your support!